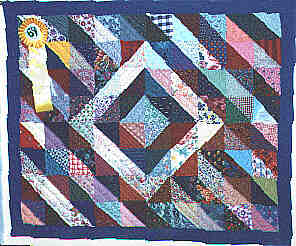 Barn in the Field (Charm)
This wallhanging was made for the Molly Pitcher Stitcher's 1993 "Charming Challenge". No two fabrics are alike in this quilt and it is entirely quilted by hand. It later won third place, wallhanging category, in the 1994 Monmouth County Fair.


We hope to see you soon in #QuiltChat™ !
[Click HERE for LIVE Chat NOW!!!]
[Home]
[Chat] [Schedule] [Newsletter]
[Lessons] [Links]
[Send a Quilty Postcard to your Friends!!!]

Page Last Modified on: 09/11/09
© KATHKWILTS 1996
(all rights reserved)